30 Interesting Statistics Recruitment & Turnover
We have been conducting a series of internal projects to see what sort of statistics are available on a broad range of workplace topics including leadership, teams, culture, diversity, millennials, engagement, and recruitment.

From a larger collection of over 300 statistics relevant to recruitment and retention, here are a few that caught our eye. If you would like access to the larger collection, register your interest below and we will notify you once the online database is up and ready for searching.


Top trends for the future of recruiting:
More Diverse Candidates - 37%

Focus on Soft Skills Assessment - 35%

Investment in Innovative Interviewing Tools - 34%

Company Mission Used as a Differentiator - 33%

Big Data - 29%

(LinkedIn Global Recruiting Trends 2017) Source
In the past, companies have typically placed the main emphasis on skills and experience, but, according to JobVite, 60% of recruiters will prioritise job fit in 2017. Source

Recruiters take an average of 6 seconds to scan a resume. (TheLadders)

The average job opening attracts 250 resumes. (Glassdoor)

The interview process takes an average of 22.9 days. (Glassdoor)

42 days is the overall average time it takes to fill a given position. (SHRM)

When reviewing resumes, specifically looking at just the name, those associated with caucasian descent received 50% more callbacks than those associated with African American descent, regardless of the industry or occupation. (National Bureau of Economic Research).

16% of organisations currently measure the return on investment (ROI) of their recruitment processes. A substantial 70% of organisations don't measure ROI, with a further 14% unsure of whether they do or not. Source
By far the most popular recruitment metric that companies track is cost per hire (81%), followed by the turnover rate of new hires (75%). Source
A 2012 study found that employers that excelled in recruiting experienced 3.5 times more revenue growth and twice the profit margin of employers that were less capable in recruiting. Source
A Brandon Hall talent acquisition study showed organisations that invested in a strong candidate experience improved their quality of hires by 70 percent. Source
Career opportunity is the #1 reason people change jobs. (Linkedin) Source
It may surprise you, but according to research from the U.S. Bureau of Labor Statistics, employees today stay longer with a company than they did 25 years ago. In 1983, the average employee tenure was around 3.5 years. Fifteen years later, in 1998, people stayed on the job an average of 3.6 years before leaving. In 2014, the average employee stayed 4.6 years. This rise, by the way, includes passing through four recessions from 1983 – 2014. Source
The median rate of labour turnover has increased again since our last survey and sits at 16.5%. Source
Research by PwC on employee turnover identified Australia as last amongst 11 developed countries at 23% for staff turnover within 12 months. There's a lot of room for improvement, as the Netherlands topped the chart with just 4% turnover of new hires within 12 months. Source
The cost of turnover in Australia, according to PwC, is estimated to be $3.8 billion in lost productivity. Source
The survey found that 31 per cent expect to change jobs every one to two years, while 39 per cent consider leaving their employer every two to four years. Meanwhile, 30 per cent indicated they will stay with their employer for five or more years. Source
Studies on the cost of employee turnover are all over the board. Some studies (such as SHRM) predict that every time a business replaces a salaried employee, it costs 6 to 9 months' salary on average. For a manager making $40,000 a year, that's $20,000 to $30,000 in recruiting and training expenses. But others predict the cost is even more—that losing a salaried employee can cost as much as twice their annual salary, especially for a high-earner or executive-level employee. Source
The average cost-per-hire is $4,129. (SHRM). Source
More than half (55%) of HR managers said that loss of productivity is the biggest problem associated with making the wrong recruitment decision. Almost a quarter (23%) said that a poor hire reduces staff morale while almost one in five (19%) HR managers allege it has resulted in significant financial costs. Source
On average, interviews last 40 minutes (phone interviews 30 minutes), however in a survey of 2,000 hiring managers, 33% claimed to know whether or not they would hire someone within 90 seconds. Source
Almost 40% of recruiters and hiring managers have not gone through the job application process on their own website to test it. (CareerBuilder) Source
The Recruitment process can be longer depending on screening methods:
Phone Interview +6.8 - 8.2 days

Group Panel Interview +5.6 - 6.8 days

One-on-one Interview +4.1 - 5.3 days

Background Check +3.1 - 3.4 days

Presentation +2.7 - 4.2 days

IQ Test +2.6 - 4.4 days

Job Skills Test +0.6 - 1.5 days

Personality Test +0.9 - 1.3 days

Drug Test +0.3 - 0.8 days
How many interviews come before an offer? According to recruiters:
Three - 51%

Four - 22%

Two - 17%

Five or More - 9%

One - 1%

(2017 Recruiter Sentiment Study MRI Network)
Here's what recruiters say will get a resume rejected in 2016:
Impersonal Applications (No Hiring Manager's Name) - 84%

No Thank You Note After Interview - 57%

Resumes Aren't Customised and Tailored - 54%

No Cover Letter - 45%

No Follow Up With Employer After Interview - 37%

(Career-builder)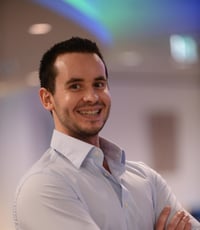 Client Services Manager, Writer & Researcher. Theo is one of the youngest professionals in the world to earn an accreditation in TTI Success Insight's suite of psychometric assessments. For more than a decade, he worked with hundreds of HR, L&D and OD professionals and consultants to improve engagement, performance and emotional intelligence of leaders and their teams. He authored the book "40 Must-Know Business Models for People Leaders."