Coaching Example with DISC, Motivators & EQ
Executive coaching offers individuals the opportunity to work with an accredited coach and develop their skills in a safe and collaborative environment that enhances professional performance. Coaching can improve self-awareness, support behavioural change and challenge ways of working to help an individual achieve their potential (to name a few).

One way to accelerate a coaching relationship and expedite results is to gain a deep understanding of the executive ("the coachee") quickly. To do this, a coach could analyse the executive's behavioural style (DISC), personal drivers or motivators (12 Driving Forces), and understand how actively they apply the principles of emotional intelligence (Emotional Quotient).
These three areas paint a full picture of an individual's performance across multiple layers.
Many coaches use these tools and take a multi-science approach with TriMetrix EQ, which is a powerful combination of the three tools listed above. Coaches do this as a part of their coaching practice so they can understand what to expect from that person, how to best work with that individual, and how to form more powerful questions to enable strong results from the coaching process.
Let's have a look at the following example to understand how using TriMetrix EQ in the beginning of a coaching relationship would be useful.
Snapshot Understanding
More Task-Focused
The most striking feature about John's three profiles is the high task-orientation.
This is not the latte sipping, lar-de-dar conversation type. Expect him to get straight to the point and use short sentences. John will be assertive and direct in his communication preferences. He won't hesitate to let you know what's on his mind. If he has a problem with something you said, he will let you know about it.
John will respect a coach who is a real-world thinker with a strong practical mentality, who can talk to him in terms of R.O.I (return on investment). He will respond better to someone who is willing to stand their ground, compared to someone who tries to be his friend and win his approval.
John is the kind of person who respects hard facts, data and logic, not opinions and feelings. As a coach, be prepared for someone who is tough-minded, potentially cold, and even blunt at times. He will respond well to someone who is an honest, straight-shooter.
This is reflected in the very high D (DISC Natural Graph), followed by the relatively high C (DISC Natural Graph), combined with the very high Resourceful (Driving Forces Graph), and the high level of Motivation (EQ Graph).
With John's high Commanding Driver, he is driven to be recognised as an individual and values opportunities to set himself apart from others. When 'selling' or presenting him with a new idea, John will gravitate towards anything that you can link to advancing his career position or status.
The relationship of these three graphs indicates that John is very goal-driven, very results-focused, and is passionately interested in getting a return on investment for his time, energy, effort and money. With this combination, he might even tend to steamroll people to get to what he wants without considering them in his actions.
Less People-Focused
One of the areas that you can expect John to be facing troubles within his career (or personal life) is managing relationships.
This is supported by the relationship between low I and S (DISC Natural Graph), low Altruistic and Harmonious scores (Driving Forces Graph), low Social Awareness (EQ Graph), and average Social Regulation (EQ Graph).
This means that the people around him may perceive him as bossy, rude, detached and even indifferent to their feelings — the impact of which he may be completely unaware.
John will need to work hard to actively apply the principles of emotional intelligence, to ensure that his natural task-focused nature doesn't sideline, or take the front seat, over his relationships. Selling John on the economic benefits of becoming more emotionally intelligent might be a good starting point.
Insightful Questions to Ask Based on this Snapshot View
Is there anything in your work environment that is causing you to focus less on being right?
This question is based on the movement seen in the Natural versus Adapted DISC Graph in the C spectrum.
Is there anything in your work environment that is pulling you away from procedures and constraints?
This question is based on the movement seen in the Natural versus Adapted DISC Graph in the C spectrum.
Is there anything in your work environment that is holding you back from relationships?
This question is based on the movement seen in the Natural versus Adapted DISC Graph in the S spectrum.
How does it impact you when people/situations over emphasise biassed or unbalanced effort-to-reward ratios?
This question is based on the high Resourceful Driver in the Driving Forces Graph.
How actively (frequently) do you collect and analyse the emotional signals from the people around you?
This question is based on the lower-than-average activity levels on Social Awareness in the EQ Graph.
Characteristics to Expect
Tough-minded

Sets very high standards

Comfortable with taking initiative

Likes to move at a fast pace

Totally keyed to results

Will try to keep others on task

Is deadline conscious

Doing things quickly is a priority

Forward-looking and competitive

Interested in facts and data

Strong need for training/education to be practical and useful

Strongly independent

Likes to make his own decisions about how an assignment should be completed

Comfortable being in the limelight

Not afraid to take calculated risks
Things That are Most Likely to Annoy John
Wasting time and moving too slowly

Too much chit-chat

Conversations that are 'touchy-feely' or 'wishy-washy'

Not getting to the point

Conversations that have no connection to results

Being unprepared

Statements that are not supported by facts

Being late
Potential Areas for Improvement
Being overly blunt or bossy

Putting tasks ahead of relationships

Overly perfectionistic; may try to micromanage

"Short fuse" (i.e. quick to anger)

Becomes irritated if deadlines are delayed or missed

Lacks the patience to listen and communicate with slower-acting people

"My way or the highway" mentality

Getting a return is more important than helping others

Has difficulty relinquishing control of a project

May seem emotionally detached, cold or aloof
Wondering how to improve your skills as a coach? Imagine having all this information BEFORE you even meet John face-to-face. Do you think it would improve your coaching model?
If so, you may be interested in attending our Science of Self™ Accreditation to introduce the TriMetrix EQ into your business and coaching approach.
Note: This article was originally published in May 2012. It was refreshed and republished in June 2022 with up to date graphs, information and context.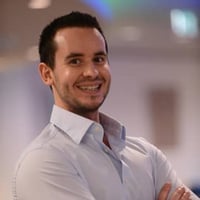 Client Services Manager, Writer & Researcher. Theo is one of the youngest professionals in the world to earn an accreditation in TTI Success Insight's suite of psychometric assessments. For more than a decade, he worked with hundreds of HR, L&D and OD professionals and consultants to improve engagement, performance and emotional intelligence of leaders and their teams. He authored the book "40 Must-Know Business Models for People Leaders."