DISC Profile: The Worlds Number 1 Behavioural Assessment (Summary)
The DISC model is a very simple four-quadrant framework used to articulate the common ways that all human beings tend to act and communicate.
---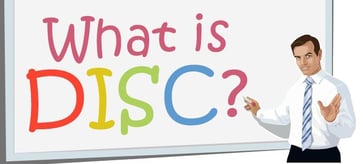 At a glance, the DISC acronym stands for:
Dominance:

How you approach problems and challenges.
Influence:

How you interact with and attempt to influence people.
Steadiness:

How you respond to the pace of the environment.
Compliance:

How you respond to rules and regulations set by others.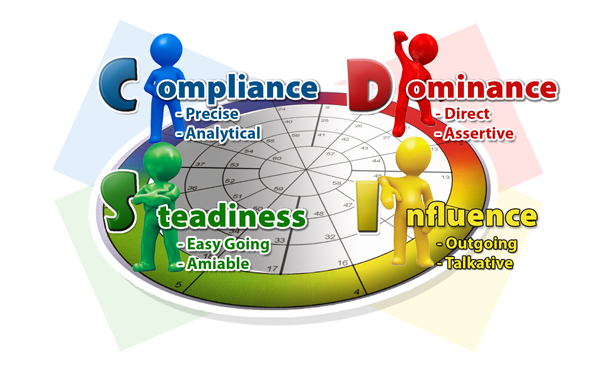 The DISC model groups four (4) common behavioural patterns found universally in all people on earth, which people can then use as a shared language (or set of terms) to better relate and communicate with each other, both at work and at home.
DISC helps to identify an individual's behavioural style.
What is a Behavioural Style?
A person's natural way of doing things.

The manner in which a person prefers to interact with others.

How a person tends to act and communicate.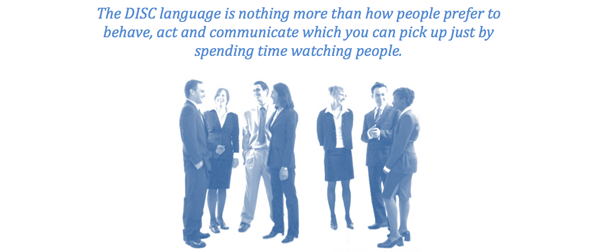 Who Created DISC?

Throughout history, philosophers, scientists, and researchers have observed basic behavioural similarities. The lineage of the DISC language, although not then called DISC, takes us all the way back to Hippocrates in 400 B.C. who identified four temperaments: sanguine, melancholic, choleric, phlegmatic. (Words which are less common, but still active in modern-day English.)
The DISC model, as we know it today, was originally conceived by Harvard Psychologist Dr. William Moulton Marston. Marston is acknowledged by most as the inventor of the lie detector. Interestingly, he is also the original creator and writer of the comic superhero Wonder Woman.
Marston published the book "The Emotions of Normal People" in 1928, which outlined the basis of the DISC theory (originally called Dominance, Inducement, Submission, Compliance). The premise of this theory was that all people demonstrate some behaviour in each dimension, and so people should not be seen as only belonging to one category (it is the intensity of all four factors that counts).
D - Dominance
This scale measures how you deal with problems and challenges.

The higher the score on the D scale, the more assertively a person will tend to tackle problems and challenges. The lower the score on the D scale, the less assertively they will approach problems and challenges.
People who score high on the D scale are often described as: Demanding, Driving, Ambitious, Pioneering, Strong-Willed, Forceful, Determined, Aggressive, Competitive, Decisive, Venturesome.
People who score low on the D scale are often described as: Conservative, Calculating, Cooperative, Hesitant, Low-Keyed, Unsure, Undemanding, Cautious, Mild, Agreeable, Modest, Peaceful, Unobtrusive.
I - Influence
This scale measures how you interact with and attempt to influence people.

The higher the score on the I scale, the more the person will attempt to seek out people to interact with and influence. The lower the score on the I scale, the less a person is likely to seek out people to interact with.
People who score high on the I scale are often described as: Effusive, Ongoing, Magnetic, Enthusiastic, Demonstrative, Persuasive, Warm, Convincing, Optimistic, Trusting, Sociable.
People who score low on the I scale are often described as: Reflective, Factual, Calculating, Sceptical, Logical, Suspicious, Matter-of-Fact, Incisive, Pessimistic, Moody, Critical.
S - Steadiness
This scale measures how you deal with pace and consistency.

The higher the score on the S scale, the more steady and consistent the person prefers their environment to be. The lower the score on the S scale, the more the person prefers their environment to be fast-paced and changing.
People who score high on the S scale are often described as: Phlegmatic, Relaxed, Non-demonstrative, Passive, Patient, Predictable, Consistent, Deliberate, Steady, Stable.
People who score low on the S scale are often described as: Mobile, Active, Restless, Alert, Variety-Oriented, Demonstrative, Impatient, Pressure-Oriented, Eager, Flexible, Impulsive, Impetuous, Hyper-tense.
C - Compliance
This scale measures how you deal with procedures and constraints.

The higher the score on the C scale, the more the person is likely to abide by rules and regulations. The lower the score on the C scale, the less a person is likely to rely on rules and regulations.
People who score high on the C scale are often described as: Evasive, Worrisome, Careful, Cautious, Conventional, Exacting, Neat, Systematic, Diplomatic, Accurate, Tactful.
People who score low on the C scale are often described as: Firm, Independent, Stubborn, Obstinate, Opinionated, Unsystematic, Self-Righteous, Uninhibited, Arbitrary, Unbending, Careless with Details.
Why DISC?
Behaviours are the first thing we notice about a person, so it may come as no surprise that behaviours directly impact teamwork, customer relations, and the ability to lead.
The DISC profile gives you not only an understanding of how you are perceived by others, but it also gives you a language to discuss your behaviour, communication preferences, and style of working. DISC can therefore be seen as a tool for effectively interacting with the different types of people who you will encounter in your work and society at large.
The DISC model is used by an estimated 75% of the Fortune 500. It continues to be the most popular choice for professional development as well as recruitment and selection.
The fact of the matter is that DISC would not be able to maintain its immense popularity if it didn't prove itself time and time again with accurate profiles that give readers the "ah-ha!" moments they need.
There are several key reasons why DISC has become one of the world's most popular tools:
It's Insightful:

Often there are comments like, "That makes immediately sense — I now understand why my boss does that!"
It's Simple:

It's not abstract theory and no psych-degree is required. Only 4 factors make up the model, making it simple to remember and very user-friendly when applying it to the workplace.

It's Intuitive:

DISC is easy to relate to people you know in real life. You can validate its truth from your everyday experiences with people at home, at work, and anywhere in the world.

It's Fun:

Enjoyable to learn, discuss and apply to any facet of your life. There's no such thing as best or worst DISC style.
The DISC profile reveals one's strengths and weaknesses. Behavioural research suggests that the most effective people are those who understand themselves and others. The more one understands his or her personal strengths and weaknesses coupled with the ability to identify and understand those of others, the better one will be able to develop strategies to meet the demands of the environment. The result will be success on the job, at home or in society at large.
Key Benefits
The DISC language is a simple and fun, yet powerful way to:
Improve communication

Build relationships

Increase understanding of self and others

Reduce conflict

Build trust, cooperation and commitment
Common Uses
Millions of people throughout the world use the DISC profile in a variety of different business applications, which include:
Management Training / Leadership Development
Team Building / Team Effectiveness
Sales Training
Customer Service Training
Communication Training
Presentation Skills
Employee Engagement
Change Management
Cultural Alignment
Resolving and Preventing Conflict
Coaching / Mentoring
Career Planning
Induction
Recruitment / Selection / Shortlisting
Job Benchmarking
Reliability
Scale reliabilities were calculated using Cronbach's alpha (a). Cronbach's a is considered the most appropriate statistical test for calculating reliability. The statistic models internal consistency, based on the average inter-item correlation. These evaluations are a more rigorous approach than a traditional split-half statistic. Cronbach's a is a statistic bounded by 0 to 1. In general an a equal to or greater than .6 is considered a minimum acceptable level, although some authorities argue for a stronger standard of at least .7.
The following table compares reliabilities using Cronbach's a. These findings document the Style Insights 2011.i as an instrument with solid scale construction and reliability. This revalidation is based on the new method of responding to the questionnaire by ranking 1, 2, 3, 4 rather than choosing "most" or "least".

Free DISC Profile:
Check out the DISC profile page, and request a free sample (or one of our combination profiles like DISC-Motivators or TriMetrix). The DISC profile involves taking a 10-minute questionnaire online. Once complete, you will receive up to a 24-page, personalised report on your behavioural style with tips on how to be more effective when working with others. No hassle, no obligation, no pushy salesperson — all done online.

Competitive Advantages
We have chosen to work with TTI Success Insights for over 20 years. TTI are the world leader in online assessments with partners in 90 countries and over 100,000 companies using their assessments worldwide. We have examined many assessment providers in Australia in detail and have found that TTI are superior in a number of areas, which are included below.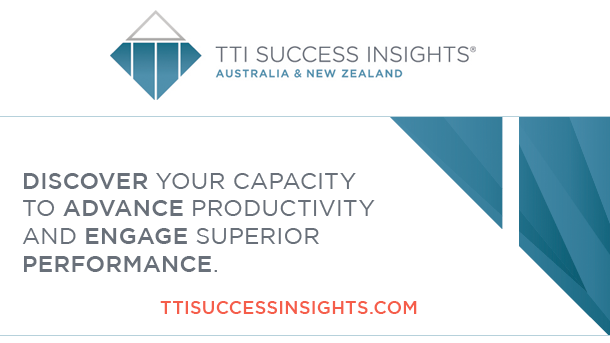 1. Independently Validated
TTI Success Insights believe in having the most reliable and well-researched assessment tools available. In order to ensure this quality, they have all of their assessments validated by an objective third party. This means that their research and validation is conducted and singed off by an independent statistician. Ask your assessment provider if they conduct their validation studies externally, or whether they are done internally by their own staff.
2. TTI Wrote the Book on DISC
The Universal Language DISC Reference Manual by Bill Bonstetter is the only comprehensive manual on DISC in the world. As the founder and president of Target Training International (TTI), formed in 1984, Bill Bonstetter has conducted more research on DISC than anyone else in the industry. In the latest full colour version of this manual, the chapters included are: What is DISC?, The Value of Learning the DISC Language, History of the Language, Defining and Learning the Language, Reading the DISC Language, Blending the Language, Benchmarking, Selling with Style, Articles & Case Studies, Questions and Answers, Validity.
3. Practical Business Focus
Our profiles do not contain pages of technical mumbo jumbo — they are designed for time-conscious business people with practical workplace goals in mind. This means that as a recruiter, coach, trainer, or consultant, you will have useful information that can be applied to a broad range of workplaces. From coaching experienced senior managers to recruiting frontline sales staff, these tools are used in every type of profession in the world.
4. Easy to Debrief and Visually Appealing
The profiles generated by the TTI Success Insights Suite are designed with simplicity in mind. This means that you don't have to be a Ph.D. in Psychology to interpret the results and create value for your participants. You'll benefit from sophisticated computer software, coupled with simple, easy to understand layout and wording.

5. Industry Leading Delivery Platform
TTI Success Insights were the first assessment company in the world to develop a computer based DISC assessment and have led the industry ever since in computer delivered tools. Their patented Internet Delivery Service (IDS) is compliant with BBB EU Safe Harbor and other data protection industry standards. With advanced features — including Group Wheels, the ability to Compare Profiles and Export Data for research purposes — this means you have all the tools to support your organisational development goals.
6. Personalised Feedback (Containing Your Name)
Unlike many assessment providers, the TTI Success Insights profiles do not use generic feedback for their profiles. Their sophisticated algorithms within the IDS system allow for personalised wording based on an individual's responses. This ultimately means that participants have better buy-in as they see their name throughout the profile.

7. Number of DISC Profile Versions
The TTI Success Insights DISC profile is available in as many as 10 different versions for specific purposes. (E.g. The Interviewing Insights has been designed for recruitment, while the Management-Staff profile has been designed for coaching and training needs.)
8. Team DISC Profile
The TTI Success Insights DISC profile is available in a team version so that multiple people's profiles can be combined into a single profile to give a behavioural snap shot of the whole team. This is particularly useful when working with managers and leaders to understand the make up of their teams.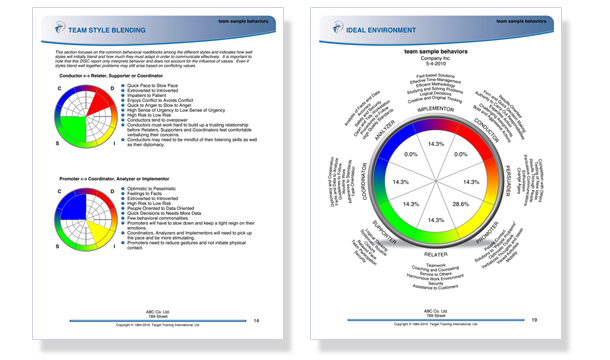 9. Free Group Wheel Feature
The TTI Success Insights Wheel is an industry-leading tool for visually representing an individual's DISC style. The wheel is now available in a team version so that multiple people can be plotted on a single wheel. There is no extra charge for this — simply ask a DTS Consultant to help with creating a free group wheel.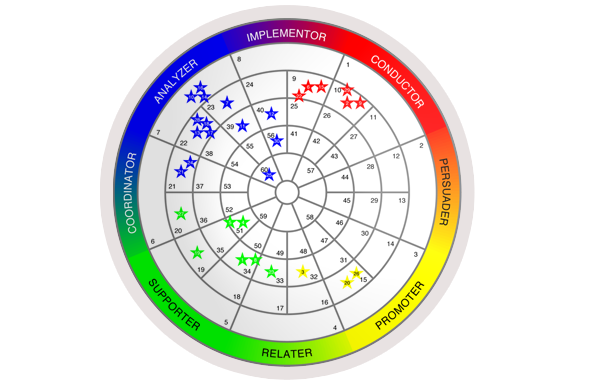 10. DISC Job Profile - Workplace Behaviours
The TTI Success Insights DISC profile is available as a job benchmarking tool. This allows you to profile a position in any company by completing a simple 10-minute questionnaire. This profile helps you understand the behaviours that are most important to that job, which can then be used as an aid in the selection process.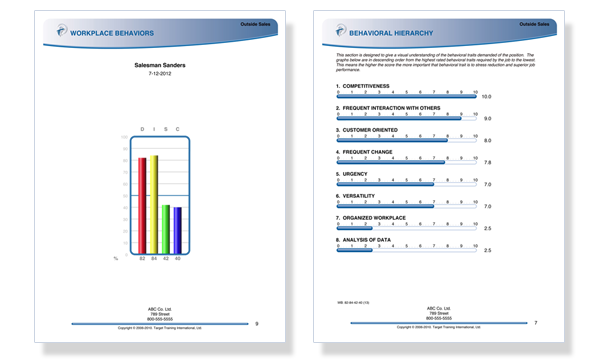 11. Structured Debriefing Guide
These documents have been designed to assist DISC accredited professionals to debrief and provide feedback to their participants. The structured process leads you through each page of the profile step-by-step with activities and actions at each stage.
12. Multiple Languages
The TTI Success Insights Suite is available in over 25 languages, with more being added every year. This means that a participant is able to answer the questionnaire in their native language and the profile can be produced in a completely different language. For example, if you're working with a Chinese participant, they can take the questionnaire in Chinese, but you can have the results delivered in English.
13. Up to 25 Pages in Length
The TTI Success Insights DISC profile is available in multiple versions, with varying lengths of pages ranging from 10 to 25. This means that you can find a profile to suit your individual requirements.
14. Customisable Profile
The Internet Delivery Service (IDS) gives you the ability to customise profiles by turning pages on and off, and even reordering pages. This means you can design the profile around your process, instead of designing your process around the profile.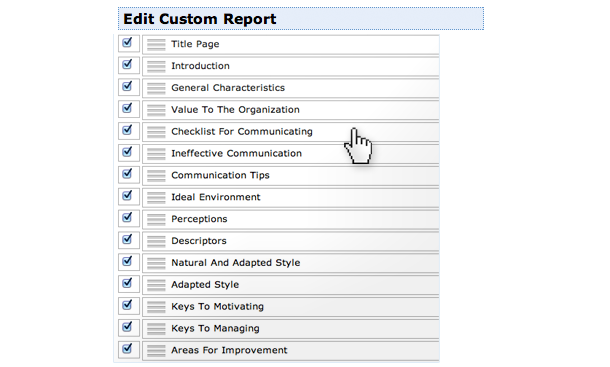 15. Requires Accreditation
As a global leader in the assessment tool industry, TTI Success Insights DISC profiles require an international accreditation to use them. This means that we maintain a high level of professionalism and integrity around the assessment tools — you'll be well trained to use the assessments.
16. More Than Just DISC
Many DISC assessment providers are only trained in DISC — it's all they have access to. Our profiling suite is made up of 5 sciences: behaviour, values/motivators, EQ, personal skills, acumen, and TTI continue to research additional areas. The advantage of this is that our tools are built by the same system, so they are designed to work together seamlessly. When your needs grow beyond DISC, you don't need to visit another 3 different providers to get what you need.

17. No 3rd Graph
Some DISC assessment providers use a 3rd graph in their reports. Research by TTI has proven that when there is a disparity between between Graph I and Graph II, Graph III does not give accurate information regarding behaviour, and therefore is not valid. How can we average the two together and get a Graph III? The only way we can use Graph III is if Graph I and Graph II are similar, in which case Graph III is still unnecessary because it will then mirror Graphs I and II. Consultants still using Graph III need to update their material.

18. No Adverse Impact (Legally Compliant)
In order to comply with U.S. law, assessment tools must be accompanied with an adverse impact study. Essentially this means that they do not adversely impact any minority groups. In their commitment to excellent, the TTI Success Insights DISC Assessment has an adverse impact study.
19. Leading Research and Development
TTI Success Insights is committed to ongoing research and development of their tools. They invest over $500,000 every year towards research projects to ensure that their tools are industry leading. TTI's data pool contains millions of individuals, collected over 28 years and the TTI research team incorporates more than 90 years of business, academic and neurological experience. TTI have an Applied Cognitive Research Lab, fully-equipped with an EEG machine to measure the electrical impulses that make up all brain activity. The research uses the EEG to study the brain activity as an individual's behaviours, skills, attitudes and motivations are assessed.

20. Support Resources
In order to ensure that you receive maximum value from your investment, our profiles come with comprehensive support materials including workbook pages, debriefing guides, facilitator's manuals, research papers, introductory e-books, games and more. This means that you can hit the ground running in both understanding and applying these assessments.
21. Phone Support
Our experts are only ever a phone call away (no extra charge). If you have questions or need some assistance in understanding or applying a participant's results, our team is ready to help. This means you will always have the support you need to facilitate a professional debrief, provide quality feedback, and help apply the profiles to each participant's unique situation.
22. Administrative Support
Going beyond phone support, we also provide administrative support (no extra charge). This can include sending instructions and passwords to your participants, managing the incoming profiles, and assisting with any technical difficulties that participants might have. This means that your time is freed up to focus on what you do best.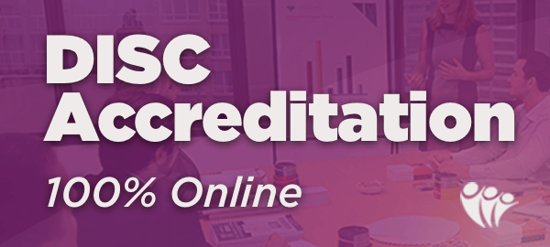 Find Out More on DISC Accreditation:
We have been delivering DISC Accreditation in Australia for the past 30 years to internal HR, L&D, and OD professionals as well as external coaches, trainers and consultants. Your DISC Accreditation includes the world's most comprehensive and flexible guide — the DISC Resources Kit and DISC Facilitator's Guide. You receive more than 250 workbook pages customised to include your organisation's information, PowerPoint slides, research and validation data, and much, much more.
For more information on DISC Accreditation Click Here.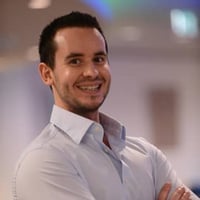 Client Services Manager, Writer & Researcher. Theo is one of the youngest professionals in the world to earn an accreditation in TTI Success Insight's suite of psychometric assessments. For more than a decade, he worked with hundreds of HR, L&D and OD professionals and consultants to improve engagement, performance and emotional intelligence of leaders and their teams. He authored the book "40 Must-Know Business Models for People Leaders."