Hire for Attitude, Train for Skills. Sounds Good, But
---
There are few sayings that are as popular and trendy in management circles today as, "Hire for Attitude, Train for Skills."It is also stated as:
Character before credentials.
Attitude over aptitude.
Hire people for "who they are" first; "what they know" second.
In a nutshell it means that when you are recruiting, look for people with a (good) attitude — traits like enthusiasm, humility, work ethic, integrity, initiative, passion — because these kinds of personality traits are virtually impossible to learn. Usually you either have them or you don't. Experience, skills and qualifications, on the other hand, can be acquired more easily.
It doesn't mean that you should go about hiring an enthusiastic 1st year medical student as a brain surgeon. "Hire for Attitude" is largely about challenging managers' current addiction to using previous job experience as their primary screening criteria.
Recruiters and HR managers will often advertise that the right candidate needs to have "a minimum of 3-5 years industry experience," when in fact none is needed — what they really need is someone who is good with customers on the phone and has a bit of common sense.
Job experience, however, is given the highest priority and placed at the top of the list of hiring criteria. If you don't have it, you won't even be given the chance to be interviewed. "Hire for Attitude" asks managers to re-consider an important question: what is more important for success in this role: inherent attitude or previous job experience?
Southwest Source
"We'll train you on whatever it is you have to do; but the one thing Southwest cannot change in people is inherent attitudes."
— Herb Kelleher, CEO, Southwest Airlines
There are a myriad of arguments for the benefits of having people on board with a good attitude — but that would require another article (book?). We think the single best example comes from the source of the quote.
"Hire for Attitude, Train for Skills" is originally attributed to Herb Kelleher, one of the co-founders of US-based Southwest Airlines. When Kelleher became chairman in 1978, he charged the People Department (aka HR) with the responsibility of hiring people with a sense of humour. "I want flying to be a helluva lot of fun!" And so humour was placed at the top of its list of hiring criteria.
The idea went further than just humour, as Kelleher encouraged employees to have fun with customers — something that no doubt would have sounded very strange to people at the time, especially to those who had been raised to believe that humour is unprofessional and silly in the workplace. But the chairman believed that failure to nourish people with a great attitude undermines productivity, creativity, and morale; whereas encouraging it increases customer satisfaction, operational smoothness, engagement, retention and ultimately profits.
(Got to love the last line: "You will not get that on United Airlines, I guarantee you.")
Southwest has gone on to become the most successful company in American aviation history. They remain the company that best embodies the "Hire for Attitude" mentality as a cornerstone of their business plan, and the one that other companies look to for developing similar recruitment and training strategies.
The "Hire for Attitude" sentiment is starting to be echoed by other leaders . . .
"We've turned waiters and waitresses into great mortgage bankers. We've hired soap-opera actors and electricians. We can teach people about finance. We can't teach passion, urgency and a willingness to go the extra mile."
— Michael Homula, Director of Talent Acquisition, Quicken
"Don't hire [bankers]… I'd rather hire a jazz musician, a dancer, or a captain in the Israeli army. They can learn about banking. It's much harder for bankers to unlearn their bad habits."
— Arkadi Kuhlmann, Founder, ING Direct USA
All Talk and No Walk?
There is a good case for "Hire for Attitude," but that doesn't mean it is common knowledge — or widely practiced. According to a 2010 Hudson Global Resources Report, "Only 30% of employers focus on richer methods of interviewing such as behavioural interviewing and personality testing. More sophisticated methods that look at motivation and career fit are hugely under-utilised at only 7%".
The idea of "Hire for Attitude" is simple and easy to believe in, but hard for many organisations to implement.
Why is it hard?
There are many reasons, but we think there are four at the heart of the matter:
The

CEO/leadership team

need to be committed to finding people with the right personality and values -- identifying those traits that are going to be critical for business success -- and support the recruitment, induction, training and performance management systems that will attract, engage and retain these people. The leadership team must be willing to make an

emotional and financial investment

in each of these systems.
Hiring managers use (or are given)

recruitment criteria from the job description

that places greater importance on experience than attitude. The fundamental problem is that

experience-fit

is assumed to be more important than

personality-fit.
Hard skills are significantly easier to

assess

than soft skills in the interview. Qualifications and experience can easily be found by looking at a resume; soft skills are never as easy to tick off.

It takes time and money to spend

training

someone who doesn't have all the experience.
"Hire for Attitude, Train for Skills" sounds good, but are companies putting it in the too hard basket?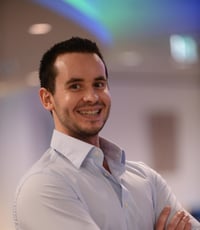 Client Services Manager, Writer & Researcher. Theo is one of the youngest professionals in the world to earn an accreditation in TTI Success Insight's suite of psychometric assessments. For more than a decade, he worked with hundreds of HR, L&D and OD professionals and consultants to improve engagement, performance and emotional intelligence of leaders and their teams. He authored the book "40 Must-Know Business Models for People Leaders."