In a Nutshell: Servant Leadership
While the idea behind servant leadership is not new and can be found in writings that date back thousands of years, the term "servant leadership" itself was coined by Robert K. Greenleaf (1904–1990) in "The Servant as Leader," an essay he first published in 1970.
The impetus for the essay stemmed from concerns over the centralisation of power in organisational hierarchies, which were "often large, complex, powerful, impersonal; not always competent; sometimes corrupt." Greenleaf believed that "caring for persons, the more able and the less able serving each other, is the rock upon which a good society is built."
The essay was later expanded into the book "Servant Leadership: A Journey into the Nature of Legitimate Power and Greatness" (1977), which became one of the most influential leadership texts ever written. The phrase has since been used by a number of different writers and leadership consultants. Some other popular titles on the topic by other authors include: "The Servant" by James C. Hunter, "Servant Leader" by Ken Blanchard, and "The Servant Leader" by James A. Autry.
The original idea for servant leadership came to Greenleaf upon reading of the short novel "Journey to the East" by Hermann Hesse. The story centres on a man who becomes a member of a special group called "The League." A small group from this association decide to travel together on a pilgrimage to the "East." While on this journey they meet Leo, a simple servant who performs menial chores and buoys their spirits along the way. While travelling through a deep mountain gorge, Leo disappears and the group cohesion starts to break down soon after due to bickering and arguments, which result in the group disbanding. Years later, one of the men sets out to find Leo only to discover that Leo, the simple servant, is actually the secret leader of "The League" and the journey the group had set out on was a test, one that his group had failed due to internal division.
Overview:
In "Servant Leadership" (1977), Greenleaf states: "The servant-leader is servant first—as Leo was portrayed. It begins with the natural feeling that one wants to serve, to serve first. Then conscious choice brings one to aspire to lead. That person is sharply different from one who is leader first, perhaps because of the need to assuage an unusual power drive or to acquire material possessions."
The Robert K. Greenleaf Center for Servant Leadership describes the philosophy as follows: "A servant-leader focuses primarily on the growth and well-being of people and the communities to which they belong. While traditional leadership generally involves the accumulation and exercise of power by one at the 'top of the pyramid,' servant leadership is different. The servant-leader shares power, puts the needs of others first, and helps people develop and perform as highly as possible."
Dr. Kent M. Keith, CEO of the Greenleaf Centre for Servant Leadership Asia, adds an important distinction: "Greenleaf described a philosophy, not a theory… If there is a single characteristic of the servant-leader that stands out in Greenleaf's essay, it is the desire to serve."
Additional characteristics used to describe servant leaders often include compassion, empathy, behaving ethically, having integrity, humility, authenticity, a willingness to share power and empower others, as well as a wider sense of community and the greater good.
Some famous examples of servant leaders include:
Abraham Lincoln

Florence Nightingale

Gandhi

Nelson Mandela

Martin Luther King
In a business context, servant leadership is expressed through the drive to help others grow and develop to their full potential. Greenleaf contrasts this idea with the traditional notions of leadership, such as an autocratic leader who is focused on maintaining power, directing others, and using coercion, which can sometimes be overt; other times subtle and hard to detect, but almost always has the definite absence of any genuine desire to help others.
The highest priority of a servant leader is to encourage, support, and enable team members to unfold their abilities and full potential. In this way, the image of a coach is probably most symbolic of the overall philosophy.
How does one know if they are acting as a servant leader? Greenleaf believes that "The best test, and difficult to administer, is this: Do those served grow as persons?"
Sources:
Servant Leadership (1977), Robert K. Greenleaf

Definition of Servant Leadership (toservefirst.com)

Robert K. Greenleaf Center for Servant-Leadership (Greenleaf.org)

Greenleaf Centre for Servant Leadership-Asia (Greenleafasia.org)

Robert K. Greenleaf - Wikipedia

Servant leadership - Wikipedia

Servant Leadership Definition - Investopedia

The Servant as Leader, Robert K. Greenleaf, 1970

How to Become a Servant Leader, Inc., Josh Spiro, 2010

Why Isn't 'Servant Leadership' More Prevalent?, Forbes, Jim Heskett, 2009

Servant leadership: A path to high performance, Washington Post, Edward D. Hess, 2013

The Understanding and Practice of Servant-Leadership, Regent University, Larry C. Spears, 2005

Leadership Theories (Businessballs.com)
This article offers an expanded description of the summary listed in our post 40 Must-Know HR, OD, L&D Models.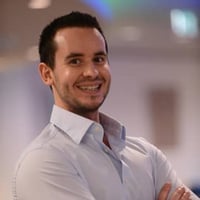 Client Services Manager, Writer & Researcher. Theo is one of the youngest professionals in the world to earn an accreditation in TTI Success Insight's suite of psychometric assessments. For more than a decade, he worked with hundreds of HR, L&D and OD professionals and consultants to improve engagement, performance and emotional intelligence of leaders and their teams. He authored the book "40 Must-Know Business Models for People Leaders."