Practical Ways to Engage a Dispersed Team
With the recent health pandemic, business leaders asked themselves, "How can I practically engage a dispersed team?" The answer - if you're looking to have a "breakthrough moment" with your team - is to first check yourself by considering these questions.
Has the business recently asked this team to take a temporary pay reduction?

Has this team observed their colleagues go through redundancy/ redeployment?

Have I made it easy (or possible) for this person to work safely? And/Or remotely?

What do I know about this person's personal circumstances?
This gives you a sense of some of their real or perceived pressure points (emotional, economic and general inertia from Lindsay McGregor and Neel Doshi's research).
To ease into it, start with a virtual conversation either in a group setting or one-to-one.
You might ask team members questions like:
Tell me what's positively challenging you at the moment.

Where do you see the value and impact of your work?

How have you grown in the past 6 months?
Actively listen and create a safe environment in which everyone can respond. Listen out for the six motives for why people work and gauge those opposing forces on performance.
Creating Engaging Work
It's likely that the underlying messages behind your team's responses will show indications of wanting work to be engaging. The reason for this is because work can easily become focused on predictable routine activities - checking emails, attending virtual meetings, taking the target number of tickets, etc.
If your team is looking to be engaged in their work, an effective way to do that is to give them the opportunity to experiment and solve problems that really matter. They will be more engaged and more effective.
McGregor and Doshi's research showed that when employees are empowered to experiment, they are more motivated. (Reference graph to the right.)
Consider problems that are critical, valuable and interesting. Ask your team to share their observations of what's broken, or what's curtailing customer or employee experience, or where there's a missed growth opportunity.
(Bonus: Asking your team questions does not take budget or a business case. Plus, it's highly effective on returns.)
Practical Responses to Anticipated Concerns
(This section assumes that you've passed the first hurdle of effectively setting up your dispersed team for remote work.)
Concern: Limited personal (or in-person) connection makes remote work less meaningful.
Try this: Brené Brown, the vulnerability researcher and professor whose TED Talk is one of the most-viewed in the world, has her entire 30-person team do a short exercise before kicking off a Zoom meeting. Everyone gives a two-word feeling check-in. It gives permission for people to quickly name their feelings without judgement. Concern: Limited ability to brainstorm or creatively solve problems across a dispersed workforce. Concern that we can't play or experiment in such an environment.
Try this: The team at Collaboration Superpowers has one of the most extensive lists of digital tools for virtual collaboration. The idea is to try multiple solutions and continue to experiment. The secrets to making them work are 1) detailed planning and preparation and 2) not giving up. Concern: Reduced desire from the team to try something new. Resistance to change is common, and possibly exacerbated by the extensive amount of change we're experiencing during this current health pandemic.
Try this: Meaningful work can lower resistance. Behavioural change is tough but possible. In fact, a poll recently showed that 82% of companies had predominantly progressed with new ways of working following the first three months of the health pandemic.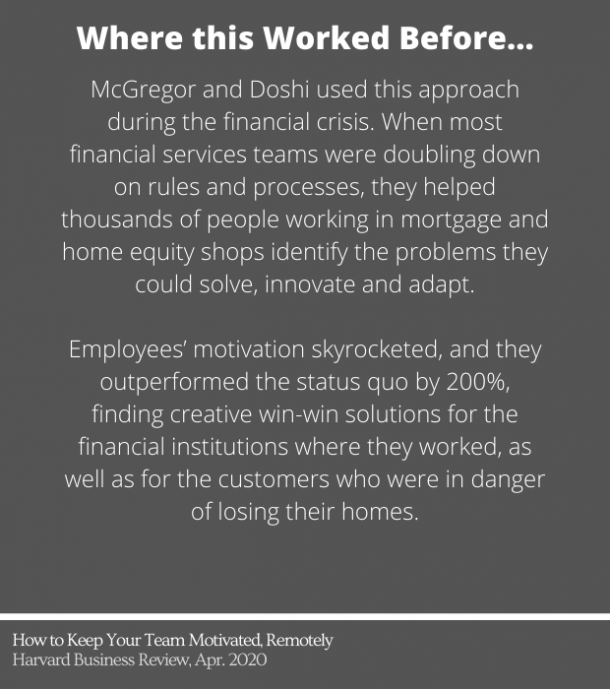 Engaging a dispersed team effectively is tough in a virtual setting. You may be interested to know that Google researchers studied what made a team effective at Google. The answer was psychological safety! Read the full article here!
References
Lindsay McGregor and Neel Doshi, How to Keep Your Team Motivated, Remotely. Harvard Business Review. April 09, 2020.
Lindsay McGregor and Neel Doshi, How Company Culture Shapes Employee Motivation. Harvard Business Review. November 25, 2015.
Lindsay McGregor and Neel Doshi, Primed to Perform. HarperCollins Publishers. October 2015.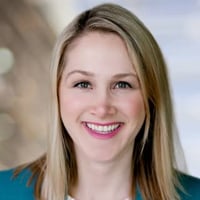 Head of Consulting Services, Australia & New Zealand. Temre has designed, planned and delivered business strategy and transformation programs that were driven by a range of factors, such as innovation, growth, compliance, regulations, restructures and economic downturns. As an Industrial-Organisational Psychologist, Temre has spent her career dedicated to organisational behaviour and the work environment. She is currently focused on the future of work and multiple areas of organisational development that support organisational growth and health.