Praise & Criticism: The Golden Circle (Sinek)
This article is an extension to our "In a Nutshell" series. To read our original overview of Simon Sinek's Golden Circle model click here.
Praise:
The greatest strength of the Golden Circle is its simplicity: Only three parts, quick to explain, easy to understand, and able to be drawn on any chalkboard or flip-chart. The model has most direct relevance as a framework for leadership, which can be applied at two distinct levels: 1) individual leadership (e.g., in the context of personal development, personal branding or career planning) and 2) company leadership (e.g., in the context of running a business at the C-suite level).
The idea that "values define strategies and strategies define tactics" is not a new idea — nor are "mission statements", which have been around since the 1980s. What Sink does extremely well is use his advertising skills to package these concepts neatly and connect the dots. He also bolsters his argument by listing numerous companies and leaders who personify the "inside-out" approach to leadership. In this respect, the model, although broad, is given plenty of practical context and case studies that can be studied.
From the individual leadership perspective, Sinek describes a range of influential leaders who differ greatly in both behavioural traits and values, going to show that "WHYs" can fall across many spectrums. These include leaders like Martin Luther King Jr., Herb Kelleher, Bill Gates, Steve Jobs, Walt Disney, John F. Kennedy, Richard Branson, and Sam Walton.
From the business leadership perspective, Sinek references Apple as the "pin-up" company for demonstrating crystal-clear focus about what they stand for and having an extremely disciplined approach to execution (Apple is mentioned over 230 times in Start With Why). Apple is viewed by Sinek as a company that built its success on "challenging the status quo" — a core value of its co-founder, Steve Jobs — while other technology companies were selling features and often got caught up in price battles, trying to sell commodities.
Sinek makes it clear and the beginning of Start With Why that he "wrote this book as a guide to focus on and amplify the things that do work. I do not aim to upset the solutions offered by others". This is the final aspect that makes the Golden Circle so appealing. It is not a product with a licensing fee or a multi-step system that requires flying in consultants to run a training workshop. It complements and easily integrates with all other types of leadership methods, theories and practices.
Criticism:
There are several major flaws that have been identified with Sinek's explanation of The Golden Circle. The first is that Sinek uses anecdotal examples of companies and leaders as supporting references, the foremost examples of which are Apple (as a success story) and TiVo (as a failure story). He then attempts to reduce the common factor underlying their successes or failures as having a basis in clarity of purpose (lack of clarity in the case of TiVo).
According to Sinek, "People don't buy WHAT you do; they buy WHY you do it". This suggests that customers don't buy products because they are inherently superior/inferior in design or quality, but rather it is because they like/dislike the "philosophy" of the company. Critics have pointed out the idea that people are loyal to Apple because of a deep emotional connection with "challenging the status quo" is simplistic. In order to lend credibility to this argument, Sinek would need to present data to support the idea that, when Apple customers make a purchasing decision, the leading (or one of the leading) factors that influence their decision to buy is their attachment to the company's philosophy. Sinek provides no such data and his arguments are primarily, if not exclusively, based on personal bias.
In the case of TiVo, he points to a lack of WHY in their advertising message to help explain their commercial failure despite being well financially backed and having a high quality product. From Start With Why: "They basically said to the mass market: We've got a new product / It pauses live TV / Skips commercials / Rewinds live TV / Memorises your viewing habits and records shows on your behalf without your needing to set it". Sinek believes they should have added a message to the start, similar in effect to: "If you're the kind of person who likes to have total control of every aspect of your life, boy do we have a product for you…", and only then describe the product features. Sinek again restates his assumption that "people don't buy WHAT you do, they buy WHY you do it, and TiVo attempted to convince consumers to buy by telling them only WHAT the product did". It is one of the many grand, sweeping statements made that Sinek provides no hard data to back up. No control groups, surveys or studies — just anecdotal observations.
Furthermore, to clarify his model, Sinek uses unsupported generalisations like, "WHY-types are focused on the things most people can't see, like the future", "Most people in the world are HOW-types", and "Regardless of WHAT we do in our lives, our WHY — our driving purpose, cause or belief — never changes". The latter statement is axiomatically false; people's core beliefs and values clearly can and do change over time.
Sinek also identifies a link between his model and brain functioning. Sinek attempts to neatly map the "what" layer with the neocortex and the "how" and "why" layers with the limbic system. In both his book and TED Talk he repeats the statement: "None of this is my opinion. It is all firmly grounded in the tenets of biology". This has attracted strong criticism from some in the scientific community as "junk science". Brain functioning is incredibly complex, not completely well understood even by experts, and from what little is well understood, humans do not appear to have "emotional" decisions fixed wholly to one region and "rational" decisions fixed to another. According to neuroscientist Paul Middlebrooks Ph.D., "we [neuroscientists] do not understand brain systems anywhere close to the point to make a claim like [Sinek's]. It's laughable. In my opinion it reduces his credibility. The golden circle is fine on its own as an idea. There is no reason to appeal to how the brain works to validate the golden circle as an effective business strategy".
The final criticism of the model relates to a danger in becoming overly belief-centric. A company, for example, can get so caught up in their own values and causes that they stop focusing on shifts in the marketplace and lose sight of the customer. As Peter Drucker is famous for saying, "The purpose of business is to create and keep a customer". If a company is overly consumed with its "Why" (serving its own agenda) and not "Who" (solving problems by focusing on customer needs), it can risk going out of business.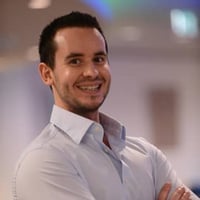 Client Services Manager, Writer & Researcher. Theo is one of the youngest professionals in the world to earn an accreditation in TTI Success Insight's suite of psychometric assessments. For more than a decade, he worked with hundreds of HR, L&D and OD professionals and consultants to improve engagement, performance and emotional intelligence of leaders and their teams. He authored the book "40 Must-Know Business Models for People Leaders."