Psychometric Testing in the Workplace
Psychometric assessments were first used by the US Army during World War I in an attempt to predict which soldiers would suffer from post-traumatic stress (called "shell shock" at the time). Today, the psychometric testing industry is estimated to be worth more than $500 million with annual growth estimated at 15%.
Millions of assessments are completed every day in the workplace. [1] If you're not familiar with the field of psychometrics, it's the theory and practice of psychological measurement in attitudes, abilities, reasoning and style (or personality). The word psychometric comes from two Greek roots: psyche (the mind) and metr (to measure), which roughly translates to measurement of the mind. [2]
It can be a sensitive topic, particularly around assessments that measure decision making and reasoning, so it's important to work only with certified or accredited professionals. If you're on the fence about these tools, we busted a few of the myths around psychometric assessments in our article 5 Myths & Misconceptions About Personality Testing.
The Prevalence of Psychometric Testing in the Workplace
In a 2016 study across 14 countries with 2,776 Human Resource, Recruitment and Talent Management professionals, the results showed the continued rise of the use of assessment tools over the previous decade.
The top reason for this was that 81% said that they expected to make more reliable and less risky decisions as a result of using the tools. It's fair to say that their decisions were predominantly related to hiring, given 94% used assessments first during the hiring stage of the employee lifecycle. [3]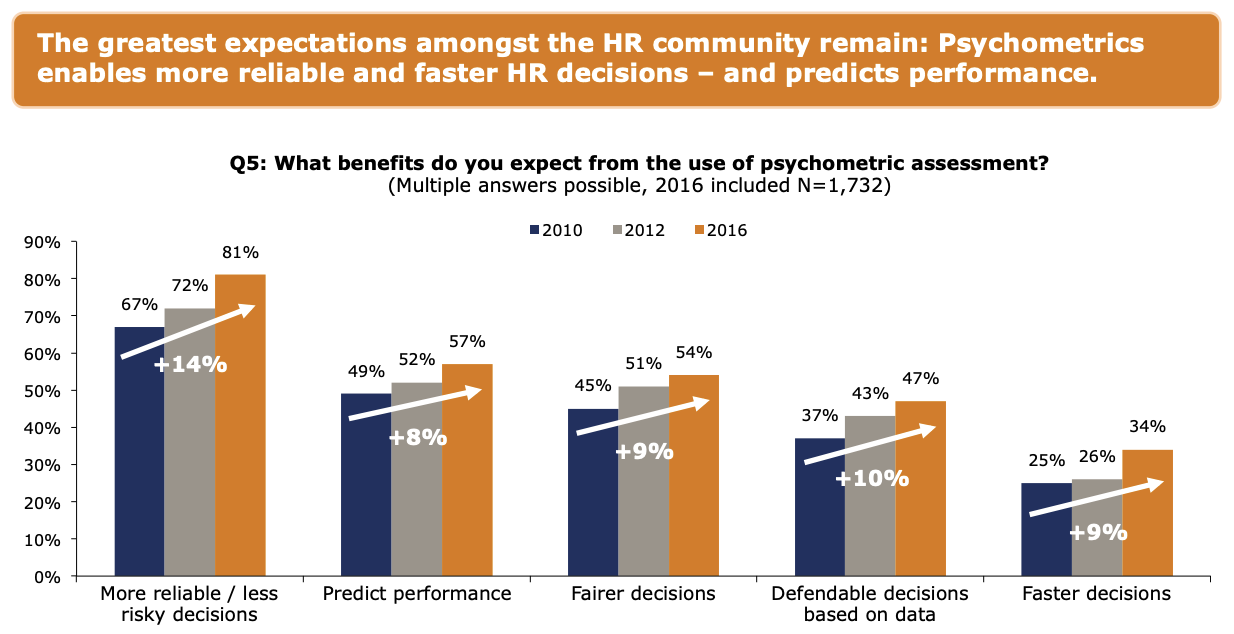 Really, psychometric tests should be used across the entire employee lifecycle and integrated into the organisation's talent management practices. According to Personnel Today, just over a quarter of organisations use assessment tools across the entire talent management agenda. Let's explore this. [4]
Integration into Talent Management Practices
A talent management agenda should cover the entire employee lifecycle. At a rudimentary level, there are three phases in the employee cycle:
Sourcing and recruitment,
A rhythm of development, performance management and career changes,
Departure or retirement.
There are a myriad of ways to identify, grow and reward talent. Here is a real example of how a commonly used psychometric assessment can benefit the organisation and employee throughout these three phases.
Assessment Tool

(Talent Insights*)

Phase 1

(Recruitment)

Phase 2

(Development)

Phase 3

(Departure)

Notes/ Approach

Undertake position benchmarking to know what traits are needed for the role. Use the "talent version" or "comparison report" at this stage.

Apply the "management staff" or "executive" versions of the assessment report at this stage.

Reference the "primary driving forces cluster" and the "ideal environment" section of the assessment report.

Organisational Benefits

Data driven decision making that is unbiased, fast and predicative of performance.

A team that respects diversity and has a universal language to discuss differences.

Maintain strong relationships in the market through career transition support.

Employee Benefits

Matched to a role that is aligned to both potential and natural strengths.

Deeper self-awareness and the support of a high-functioning team.

Data driven advice on what to look for in the next personal or professional move.
* Talent Insights is a double-science psychometric tool. It provides you with two perspectives to understand the individual who completed the tool:
Behavioural style (i.e. how the individual prefers to behave and communicate in response to challenges, people, pace and rules) and
Motivational drivers (i.e. why the individual moves into action and what disengages the individual).
You can request a copy of a Talent Insights report in the form available in this section of our Complete Guide to our Psychometric Assessments.
To learn more about the business case or investment for psychometric assessments, please visit this section of our Complete Guide to our Psychometric Assessments.
The use of psychometric assessments in the workplace continues to grow globally. To get the most out of your investment in these tools, it's best to use them across the entire employee lifecycle (not just recruitment) and integrate them into your talent management practices. If you would like to discuss the benefits identified in the table above, please feel free to reach out to our office for a conversation.
References
[1] Harrell, Eben. (2017). A Brief History of Personality Tests. Harvard Business Review, March–April 2017 issue (p.63).
[2] Oaken College. List of Greek and Latin roots in English. Accessed 22 February 2021.
[3] Lohff, Andreas and Preuss, Achim. (2016). The Global Assessment Barometer. Cut-e Group Hamberg.
[4] Crush, Peter. (2015). Psychometrics evolution: how testing has won over HR. Personnel Today. Accessed 22 February 2021.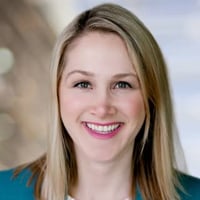 Head of Consulting Services, Australia & New Zealand. Temre has designed, planned and delivered business strategy and transformation programs that were driven by a range of factors, such as innovation, growth, compliance, regulations, restructures and economic downturns. As an Industrial-Organisational Psychologist, Temre has spent her career dedicated to organisational behaviour and the work environment. She is currently focused on the future of work and multiple areas of organisational development that support organisational growth and health.