The 20 Most Horrible Fictional Bosses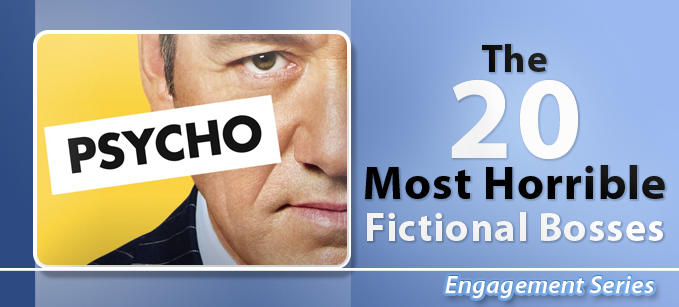 ---
In this series, we are talking about 6 key drivers that come up time and again in the research on employee engagement. This is part of #1: Good Direct BossOur boss treated us all to the movie Horrible Bosses this week ("to show us how good we've got it.") It follows 3 friends played by Jason Bateman, Charlie Day and Jason Sudeikis who decide to murder their horrible bosses:
A senior executive bully and psychopath (Kevin Spacey)A cocaine-addicted, amoral chemical company manager (Colin Farrell)A sexually aggressive dentist (Jennifer Aniston)
These 3 bosses represent some of the most extreme, grisly and repulsive behaviours that can be achieved by any manager wanting to completely disengage their staff. We hope no one reading this has ever had to endure people like this in the real world (though not everyone in the office agreed that being sexually harassed by Jennifer Aniston would really be all that bad).
Anyways, feeling a little disturbed (and inspired) after the movie, we decided to put together a list of the top 20 most awful, unpleasant and diabolically unbearable bosses from film and TV, along with the behaviours that helped them earn their spot.
The winners are:


Controlling

Doesn't tolerate mistakes

Heavy breathing



Evil

Immature

Interrupts you mid-sentence

Keeps the airconditioner on low

Short tempered

Makes you wear a bikini



Two-faced

Psychotic

Jealous








Makes you do the same thing every night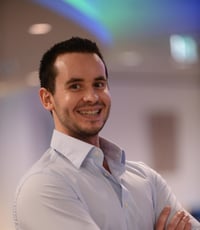 Client Services Manager, Writer & Researcher. Theo is one of the youngest professionals in the world to earn an accreditation in TTI Success Insight's suite of psychometric assessments. For more than a decade, he worked with hundreds of HR, L&D and OD professionals and consultants to improve engagement, performance and emotional intelligence of leaders and their teams. He authored the book "40 Must-Know Business Models for People Leaders."