The Coaching Assignment: Resolving Conflict at a Law Firm
---
This case study presents a coaching assignment for resolving conflict at a law firm. In this case study, the DISC behavioural assessment and the Workplace Motivators assessment were applied. The lessons learnt could be transferred to other similar situations where coaching is needed.
The Client
Tim is a senior partner at a large legal firm. Newly promoted, he is described as a high achiever with a sharp mind and a strong personality.

The Situation
The managing director has organised leadership training for each partner in the firm in addition to seeing a coach once a week to work on specific goals that will be defined by the coachee. In Tim's case, he has identified relationships as the area in most need of development. Tim has a tendency to be abrasive and is aware that his relationships with some of the office staff aren't as good as what they could be.

The Goal
As Tim's coach, the general brief you have been given is to help Tim improve his emotional intelligence and leadership skills. More specifically, Tim has asked for help on managing his tendency to put people off by being too forceful and blunt.

The Client's DISC and Motivators Profile
Before the first meeting with Tim, you ask him to complete a "Talent Insights" assessment, which provide his DISC and Motivators graphs as well as a 40 plus page report about Tim.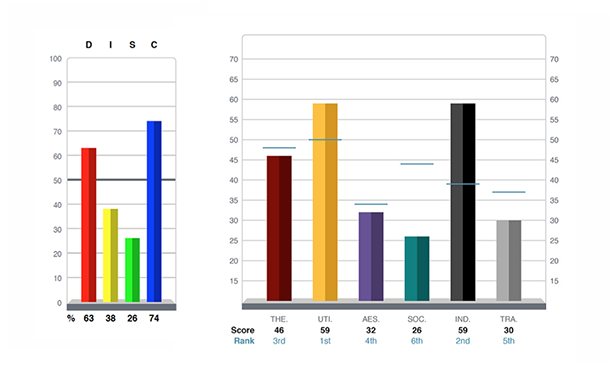 Understanding the Causes of Conflict
With access to this information, you quickly identify several factors that can contribute to tension and conflict.
Behavioural Conflict (DISC): The high D and high C on the DISC graph signify a more task-focused than relationship-focused behavioural style. This combination can come across as tough, blunt and potentially cold — especially to those with a high I/S combination. The D/C pattern is sometimes referred to as the "Implementor" style. For lack of a better term, this might also be called the "Hard-Hitting" style. The great strength of this pattern is the focus on results, quality and accuracy. Someone with this combination will tend to have high standards that he or she expects others to follow. The High C also has a strong need to get things right. This may result in a tendency to be overly perfectionistic, so Tim may have a tendency to micromanage.
Values Conflict (Motivators): The high Utilitarian motivator represents a strong drive for things that are practical and useful. Conversations that are "touchy-feely" or "wishy-washy" are likely to irritate Tim. The emotion associated with the high D is anger (short fuse), so when his core motivators are violated or ignored you can expect his displeasure to be made known. Tim also has a low "Social" drive, which concerns the desire to help others and eliminate hate and suffering. This low score doesn't mean that Tim wants to cause pain and suffering — it simply means he is more selective about who he chooses to help and the manner in which it is done. Tim also has a high "Individualistic" drive. This represents an interest in power, leading and status. Ideas and topics that link to this theme are likely to excite, energise and engage Tim. The Individualistic has a strong desire to be their own person, and they tend to be very independent. Combined with Tim's high D/C style, it is an overall pattern that strongly indicates a headstrong, challenge-oriented approach, which can be great for getting results when it comes to tasks but not always with relationships.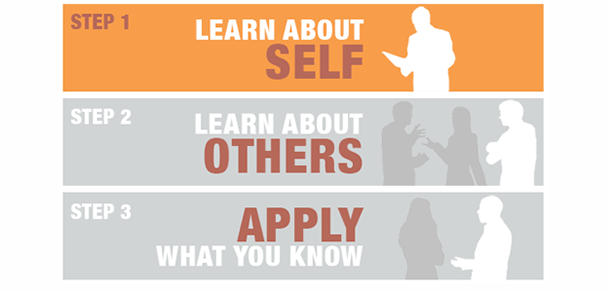 Using Assessments to Support Coaching Aims
As you can see from the very brief example above, with access to an objective, validated, third-party assessment, the coach is able to more clearly understand the causes of conflict in a client's life. The first step in any coaching session is developing self-awareness (i.e. understanding the coachee's basic goals, preferences, strengths and limitations).
The next step from there is to learn about others (in Tim's case, those who work in close proximity to him) by understanding their wants, needs, habits and tendencies — and how they differ from the client. Having behavioural and motivational frameworks in place offers a common language that can be used in the office to bring awareness to people's "blind spots" and reduce the potential for conflict and misunderstandings. Ultimately, this help people build trust, improve cooperation and make better decisions in the workplace.
Read more about getting accredited in these profiles here.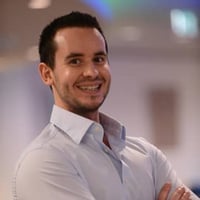 Client Services Manager, Writer & Researcher. Theo is one of the youngest professionals in the world to earn an accreditation in TTI Success Insight's suite of psychometric assessments. For more than a decade, he worked with hundreds of HR, L&D and OD professionals and consultants to improve engagement, performance and emotional intelligence of leaders and their teams. He authored the book "40 Must-Know Business Models for People Leaders."