The Most Important Leadership Ability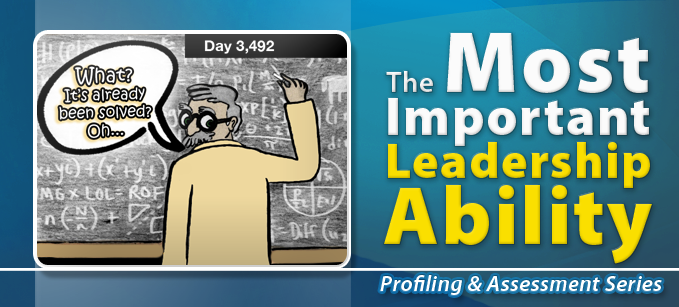 ---
If there were a single most important ability for leadership success, which someone asked you to pick and then summarise in a tweet, what would you say?Here's a quick search of Twitter quotes to help...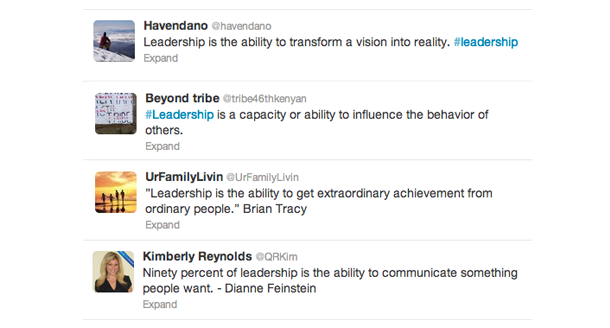 Ok, got your 'Ultimate Leadership Ability' quote ready to go?
"Whoa horsey," you might be thinking. "Hang on. Leadership means very different things to different people, how can you say there is a single most important element? After all, there are hundreds of blogs, articles, research papers, and new publications released every year on the topic. Isn't the jury still out as more research needs to be conducted?"
One thing that's true is that leadership traits are still very much a hot topic, and leadership books are to the business community what One Direction are to teenage girls: in constant, shrieking demand. But leadership performance isn't quite the mystery that it used to be. We have a great deal of research on managers, executives, and CEOs — from small business to big business, private to not-for-profit, from looking after teams of 3 to 300. It turns out that the secret equation to leadership success actually comes from the same place as success in nearly all jobs. And the answer has to do with something you've probably already heard of: Emotional Intelligence (EI).
Extensive research into workplace performance helped to challenge the widespread belief upheld during most of the 20th century that IQ alone was what mattered for superior career results. Analyses done by dozens of different experts in over 500 corporations worldwide have now arrived at very similar conclusions: emotional intelligence is paramount to excellence in virtually every profession and every job.
It's not that IQ doesn't matter, but that's it's more of a 'threshold' competency. It can make you a leader, but not an excellent one.
With authorities stating that EI is the single most consistent predictor of leadership emergence (The Leadership Quarterly) and claims that it is twice as important to effective job performance as IQ or expertise, emotional intelligence certainly warrants our attention.
The difficulty with emotional intelligence is that it has many different definitions depending on whom you speak to and which model they have come across. Most will agree that EI, in its most simple definition, relates to our ability to manage our own emotional states and the states of others.
Emotional intelligence forms the basis of all soft skills, or people skills, and includes (but is not limited to) our ability to communicate, build trust, empathise, motivate ourselves, delay gratification, and understand how we are perceived by others. Emotional Quotient (EQ) is the term used to describe the actual measurement of this ability, but is often used interchangeably with the term EI.
As part of this series, we'll explore more details on leadership and emotional intelligence, but for now, as our summary quote, we think our tweet would perhaps look something like this:

Curious to Learn More?
Check out the EQ profile page, and request a free sample (or the Behavioural Intelligence profile which combines DISC and EQ). The EQ profile involves taking a 15-minute questionnaire online. Once complete, you will receive a 10-page report on your Emotional Intelligence with tips on how to be more effective when working with others. No hassle, no obligation, no pushy salesperson — all done online.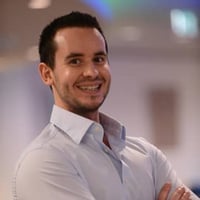 Client Services Manager, Writer & Researcher. Theo is one of the youngest professionals in the world to earn an accreditation in TTI Success Insight's suite of psychometric assessments. For more than a decade, he worked with hundreds of HR, L&D and OD professionals and consultants to improve engagement, performance and emotional intelligence of leaders and their teams. He authored the book "40 Must-Know Business Models for People Leaders."