The Top 10 Best HR Articles & Videos (March-April)
---
A selection of some of our favourite HR/business related articles and videos from around the web in March-April 2014...
1. "Near utopian" workplace conditions, circa 1852
Source: Human Capital Magazine
A notice was discovered in the ruins of a London office building stating that the "owners recognise the generosity of the new labour laws, but will expect a great rise in output of work to compensate for these near Utopian conditions." But just what exactly did the employees get that made their workplace "Utopian?" You are guaranteed a laugh. > See article.
2. Day of the Dead Bored: A Human Resources Horror Story
Source: Ready to Roll
"If you've ever yawned your way through an outdated, boring internal communication – this one's for you!" > See article.
3. This Girl Scout Knows More About Business Than You
Source: Mashable
"Katie Francis, a 12-year-old from Oklahoma, recently broke the world record for most Girl Scout cookies ever sold with a whopping 21,477 boxes and counting. Now she's here to offer some tips on how you can improve your business strategies and land those big deals." > See article.
4. 24 People Who Applied for the World's Toughest Job Were In for Quite a Surprise
Source: AdFreak
An ad agency posted a fake job listing for a "director of operations" with requirements like: Standing up almost all the time, working from 135 to unlimited hours per week, no vacations. Did anyone apply? You'd be surprised. > See article.
5. The 41 Best Resume Templates Ever
Source: The Muse
The title says it all. > See article.
6. How To Achieve Work-Life Balance In 5 Steps
Source: Eric Barker's Blog (Barking Up the Wrong Tree)
Eric Barker offers a succinct summary of work-life balance research with tips, videos and a Dilbert comic for relief. > See article.
7. Are You an Overwhelmed Employee? New Research Says Yes.
Source: Josh Bersin, LinkedIn
Josh Bersin's team just completed one of the largest-ever studies of corporate talent and HR needs around the world — the Deloitte 2014 Human Capital Trends Study. > See article.
8. Why Amazon Is Copying Zappos and Paying Employees to Quit
Source: Harvard Business Review
"Bezos's letter unveiled his well-named Pay to Quit program, in which the company offers fulfillment-center employees one-time payments to leave Amazon. Each employee gets the offer once a year. The first time, it's for $2,000. The offer increases by $1,000 each year after that up to a maximum of $5,000." > See article.
9. Return On Self-Awareness: Research Validates The Bottom Line Of Leadership Development
Source: Forbes
Forbes writer Kevin Cashman comments on the findings of a whitepaper from two researchers who found a link between the financial performance of 486 publicly traded companies and the "self-awareness" level of people working at those companies. > See article.
10. Your Problem is You
Source: Colin Ellis' Blog (Ramblin' Guy)
"Your problem isn't your job, your problem is you." A short, insightful post from a man who knows people well. This one gets extra points for the Ferris Bueller reference. > See article.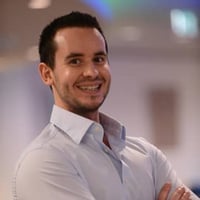 Client Services Manager, Writer & Researcher. Theo is one of the youngest professionals in the world to earn an accreditation in TTI Success Insight's suite of psychometric assessments. For more than a decade, he worked with hundreds of HR, L&D and OD professionals and consultants to improve engagement, performance and emotional intelligence of leaders and their teams. He authored the book "40 Must-Know Business Models for People Leaders."