Time to Split HR: Backlash From Around the Web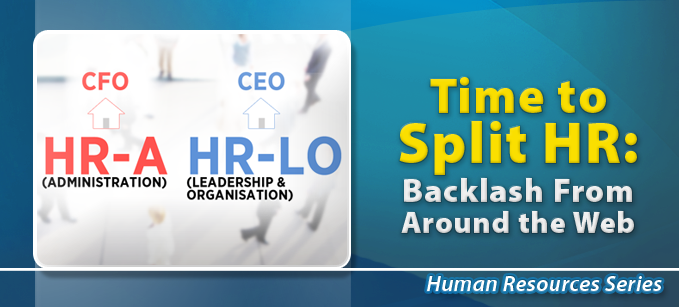 ---
In what is undoubtedly the front-runner for The Most Talked-About HR Article of The Year Award, Ram Charan's recent piece for Harvard Business Review — "It's Time to Split HR" (Jul-Aug, 2014) — has lit up social media, attracting criticism and analysis from some of the biggest names in HR.In essence, Charan revisits the age-old issue of inadequate business acumen within the HR ranks and offers a solution in the form of a functional change — in effect eliminating the HR department and redistributing its tasks:
"My proposal is to eliminate the position of CHRO and split HR into two strands. One—we might call it HR-A (for administration)—would primarily manage compensation and benefits. It would report to the CFO, who would have to see compensation as a talent magnet, not just a major cost. The other, HR-LO (for leadership and organisation), would focus on improving the people capabilities of the business and would report to the CEO… HR-LO would be led by high potentials from operations or finance whose business expertise and people skills give them a strong chance of attaining the top two layers of the organisation... "
Although radical, Charan's basic suggestion is not new. The gamut of "what's wrong with HR" has been covered from just about every angle by authors over the years, but what made this article particularly attention-getting were two facts. First, the website on which it appeared (i.e. HBR), and second, who it was submitted by (i.e. a very popular business thinker).
The following quotes, from leading commentators and practitioners, reflect the general tone and reaction from those in the HR industry:
"Charan (intentionally or not) lambasts the entire HR profession ('It's time to say good bye to the Department of Human Resources'). This is both unfair and simplistic."

— Dave Ulrich, HR Author
"I have great respect for Charan, but I think his suggestion -- to strip compensation and benefits out of HR and place it within the CFO organisation -- is impractical."

— Susan R. Meisinger, Former CEO of SHRM
"… Wow. I really have to respectfully disagree [with Charan] on many points."

— Josh Bersin, Founder and Principal of Bersin by Deloitte
"Ram Charan is a brilliant thinker when it comes to Executive and Board Leadership and HR strategy, but this time, he has it wrong… What Ram suggests would weaken and set back the progress we have made. It is not practical and does not offer a real solution."

— Libby Sartain, Former Head of HR at Yahoo! and Southwest Airlines
"While my colleague and I vehemently agree that HR's status quo is an inhibitor to growth, it is with the same fervor that we disagree with Ram's proposed solution."

— Cathy Benko, Vice Chairman and Managing Principal at Deloitte, and Erica Volini, HR Transformation Leader at Deloitte
Very often, the most enjoyable and valuable parts of the reading experience (when it comes to online articles and blogs) are the comments. The reaction by the HBR readership on this occasion was one of overwhelming opposition to Charan's prescription. What's really interesting to look at is which specific parts of the article each individual reviewer chose to focus on as the most salient point of rebuttal, and what common themes emerged.
Most of the top-rated commenters observed that the core problem identified by Charan is not with HR per se, but with the CEOs and board-level executives — the ones responsible for hiring the CHRO — and to what extent they opt to utilise/work with/empower their HR function. This line of thought can be summed up by the following sample of comments from the HBR article:
"To say that a business discipline is dysfunctional because it is too transactionally focused is not a reflection of the business discipline, but of the lack of vision and leadership at the top of the organisation."

– Derrick Mickle
"Charan talks about CEOs who are "disappointed in their HR people." So, these CEOs didn't do anything about that? I'm confused that a CEO would recognise that a function in her business is underperforming and not do anything to correct it."

– Derrick Mickle

"Splitting HR-A from HR-LO because of dissatisfaction with the CHRO is like splitting Accounting from Finance because of dissatisfaction with CFO. Doesn't make sense."

- Jeff DeWolf

"Rather than a split, I suggest 1) elevate expectations on the CHRO position, 2) find the right CHRO with business acumen and strategic aptitude, and 3) give him/her a legitimate place at the table with other C-levels."

- Jeff DeWolf

"… It's the equivalent of removing responsibility for financial forecasting from the CFO. Just as you can't project financial results without solid forecasting capabilities, you can't improve on the people capabilities without being able to manage compensation and benefits strategy… What we need are better HR Leaders and better tools to use to diagnose organisational strengths and weaknesses on the talent capability side of the equation."

- Libby Sartain

"My experience suggests there is a problem with HR, but that the problem will be resolved when CEOs select HR leaders with the same high standards they use to select their CFO, for example."

- Dr. T. Baumgardner

"This article is obtuse in that it accuses HR as being the only department with leaders who don't get the strategic planning portion of the job. I've met plenty of CFOs, CIOs, and even CEOs in the same boat."

– Darrel Restrepo

"The fundamental issue in many (most?) cases is a simple failure by CEOs and other leaders to demand excellence in this realm, and then to commit the necessary resources on a sustained basis."

– Mike B.

"HR doesn't necessarily consistently attract the best and brightest – this conversation as already happened, and we've all read the Fast Company article from several years ago on this topic – but poor executive HR leadership selection lies at the feet of the Board and company executives."

– Tracy Cote

"If you believe HR is an administrative function, you staff it with administratively inclined people, and pay them accordingly; shame on you for expecting anything more."

– Christopher A.

"Ram could have written just the same story about CIOs, CMOs, etc. It's so basic; it's the capability to look beyond your function, to have that broader view and understanding of the total business picture. And yes, some CHROs are lacking that. As others do."

– Herwig W Dierckx
If you're interested in further reading on the subject, we've put together a selection of articles whose publication was prompted by the original.
Original:
Further Reading: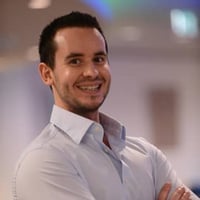 Client Services Manager, Writer & Researcher. Theo is one of the youngest professionals in the world to earn an accreditation in TTI Success Insight's suite of psychometric assessments. For more than a decade, he worked with hundreds of HR, L&D and OD professionals and consultants to improve engagement, performance and emotional intelligence of leaders and their teams. He authored the book "40 Must-Know Business Models for People Leaders."