Top 5 Predictors of Employee Turnover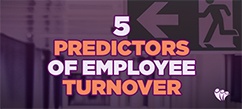 ---
Employee turnover is costly. But let's talk specific numbers and studies, because you've probably already heard the anecdotes.
Deloitte and SHRM both place the average cost per hire at around US$4,000, a figure that relies on easy-to-quantify measures — known as direct costs — such as advertising, agency fees, and interviewing time. However, when an employee leaves, the total loss to the business can vary wildly, ranging anywhere from $10,000 to $200,000, depending on the quality of the worker, role type, role seniority, and how the more difficult-to-quantify measures — known as indirect costs — such as lost productivity, team impact, and customer impact are calculated.
For example, a report by Oxford Economics, accounting for both direct costs and lost productivity, estimated it costs over £30K on average to replace a worker. The Centre for American Progress, after looking at 30 case studies, placed the cost of employee turnover at 20% of a worker's salary, but for a senior executive that cost could skyrocket to over 200% (e.g., a CFO on $100k salary would cost $200,000 to replace). To give an example in an Australian context, a study of 64 hotels found that the average cost for replacing an operational employee is approximately $10,000, jumping to nearly $110,000 for executive/managerial staff (Davidson et al., 2010).
If a company has a high rate of turnover, you don't need a Ph.D. in math to appreciate the significant long-term damage of uncontrolled turnover. The CEO of Zappos once estimated that hiring mistakes cost his business well over $100 million during an 11-year period.
Which factors specifically drive employees to run — or slowly amble — towards the exit?
A report by Quantum Workplace outlines five key predictors of turnover. Based on more than 97,000 survey respondents, their data set is one of the largest in the HR analytics industry.
Job Dissatisfaction:

Employees are at a higher risk of turnover who feel a general sense of unhappiness, a lack interesting or challenging work assignments, and a lack opportunity to use their strengths in their role.
Unmet Needs:

When employees feel like their opinions don't count, or that the organisation shows too little interest in supporting their development, health, well-being, or work-life balance, there is a greater likelihood of turnover.
Poor Team Dynamics:

If employees don't like their immediate manager, do not believe their team collaborates effectively, or if they feel that coworkers aren't committed to quality work, they are more likely to leave.
Misalignment:

This includes a disconnect between the employees' career goals and their job, as well as being unsure about whether there is a place for them with the company in the future
Intention to Stay:

Although it may sound obvious, the single biggest predictor of turnover is the indication that the employee does not want to continue (this kind of feedback is not always explicitly sought by management).
The above data represent averages only. Turnover rates and costs are unique to each organisation, and motivations for wanting to stay or leave are ultimately individual. Daniel Harris, one of the report coauthors, notes that turnover is not always necessarily a bad thing. Some turnover is usually expected and part of a healthy culture. It's important to understand when functional turnover begins its transition towards dysfunctional turnover.
For more, including strategies to minimise turnover, check out the report from Quantum Workplace.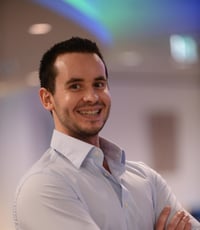 Client Services Manager, Writer & Researcher. Theo is one of the youngest professionals in the world to earn an accreditation in TTI Success Insight's suite of psychometric assessments. For more than a decade, he worked with hundreds of HR, L&D and OD professionals and consultants to improve engagement, performance and emotional intelligence of leaders and their teams. He authored the book "40 Must-Know Business Models for People Leaders."