Why Do Corporate Values Routinely Suck So Bad
---
Even if you haven't seen the film Bring It On, you've probably heard the phrase 'spirit fingers'. It's part of a dance routine taught by a cheerleading consultant, Sparky, who is hired by a cheer squad (led by Kirsten Dunst) desperate to outperform a rival team.

What Kirsten's team don't realise until it's too late is that the consultant has been travelling around the country teaching the very same routine to other squads, leaving her team looking (to the judges) as though they are utterly lacking in imagination, uniqueness and originality.
This, too, is exactly what has happened in business.
It would seem as if there has been a very influential consultant travelling around the world for the past two-decades handing out the same 'spirit fingers' routine of pre-packaged values:
Integrity

Respect

Service Excellence

Customer Focus

Quality

Passion

Teamwork
Why do corporate values so habitually reek of insincerity? Why do they so often sound like a contrived press release from the marketing department? Or the most platitudinous of cheerleading chants? Why is the language so disgustingly inbred; and why is it that you can shuffle around just about any two major companies' value statements and not know the difference?
The very term 'company values' is enough to make many people roll their eyes. After all, Enron once shouted from the rooftops its core values of RICE (Respect, Integrity, Communication, Excellence).
We don't just live in a 'Low Trust' society, we now live in a 'Negative Trust' society, meaning that our brain's are actively looking to sniff out corporate BS, spin, and exaggeration. Even though Monica Trapaga (the ex- Play School presenter) never said anything incorrect went she went on TV to promote the calcium intake of Coco Pops, she was giving the impression to kids that it was a nutritious cereal, which ignited public outrage in Australia. Even when ads aren't technically lying, people believe there is a responsibility to be genuine.
"Coco Pops can help children get the calcium they need. In fact, Kellogg's Coco Pops with milk provides more than 25 per cent of daily calcium needs. Around 10 per cent of it from the cereal alone. Kellogg's Coco Pops - you learn something new every day." — Monica Trapaga

"What we say is true and forthcoming — not just technically correct."— Dell, Code of Conduct
A Few Positive Examples:
"Virgin Blue with no values would be like any other airline."— Richard Branson
There are certainly many examples of leaders who take values very seriously and use them as source of competitive advantage, helping to attract customers and retain staff.
Companies like Virgin in Australia and Southwest Airlines in the US, as well as Atlassian, Zappos, and RedBallon are companies that are often cited as dedicating unusual amounts of time and energy towards supporting their values, and will absolutely fire anyone who blatantly violates them (as a totally separate matter from individual performance).
Atlassian's core values:
Open company

No bullsh*t

Build with heart and balance

Don't f**k the customer

Play as a team

Be the change you seek
Zappos' core values:
Deliver WOW through service

Embrace and drive change

Create fun and a little weirdness

Be adventurous, creative, and open-minded

Pursue growth and learning

Build open and honest relationships with communication

Build a positive team and family spirit

Do more with less

Be passionate and determined

Be humble
Meaningful company values tend to be more common among smaller sized companies where the culture is easier to develop, but that doesn't mean that all large companies should parrot each other.
And even if you think that the language used to describe a company's core values doesn't matter that much, we would argue that it does, in the same way that receiving a hand written note from someone is better than a generic e-card template — it shows a higher level of attention, concern and genuine care — and that level of respect, in and of itself, says something about the leadership of the organisation.
Discover Your Personal Values:
Research has discovered 6 core values of major importance, see: The Motivators Profile.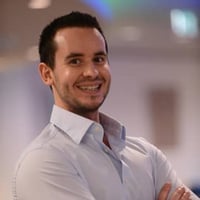 Client Services Manager, Writer & Researcher. Theo is one of the youngest professionals in the world to earn an accreditation in TTI Success Insight's suite of psychometric assessments. For more than a decade, he worked with hundreds of HR, L&D and OD professionals and consultants to improve engagement, performance and emotional intelligence of leaders and their teams. He authored the book "40 Must-Know Business Models for People Leaders."