In a Nutshell: NLP
The field of NLP as a whole has been shaped by the combined efforts of a large number of contributors, however the original co-creators can be clearly identified as Richard Bandler and John Grinder.
In 1972, Richard Bandler was an undergraduate student at the University of California, Santa Cruz, where he teamed up with Dr. John Grinder, then an assistant professor of linguistics. Together the pair examined the communication patterns of three leading therapists who were known for getting unusually effective results with their patients:
Fritz Perls (a famous German psychiatrist who coined the term "Gestalt Therapy")

Virginia Satir (a leading family therapist)

Milton Erickson (the founder of clinical hypnotherapy)
Analysis of the communication and language patterns of these therapists formed the basis of models taught by Bandler and Grinder in workshops and seminars under the title of "Neuro-linguistic programming," in which they incorporated concepts from psychology, neurology, linguistics, and computer programming.
The essence of NLP means brain (neuro) language (linguistic) communication (programming) — influencing the patterns of thought in the brain that lead to positive behaviours and improved psychological wellbeing.
NLP initially gained attention as a breakthrough set of therapeutic techniques to cure phobias, change bad habits and help to address a range of psychological issues in a very short timespan, often just minutes. Bandler claims to "reliably get rid of a phobia in ten minutes — every single time," knowledge which was achieved "not by studying people who had phobias but by studying people who had gotten over phobias and finding out how they did it."
A major early appeal of NLP was its practical and direct approach to bringing about change on the spot, which was contrasted with the time-consuming and notoriously low success rates of traditional therapy and psychoanalysis. The emphasis on results in minutes or hours rather than months or years — without the backing of empirical data and research — drew both fans and sceptics.
During the late 1970s, the fledgling field of NLP had attracted a small but passionate community of members, when an internal division between Bandler and Grinder emerged and preceded an eventual split. The fallout resulted in long-running legal issues and a splintering of NLP into separate branches.
Although some in the public may see NLP as a singular brand entity, it is important to note that there is no "official" version of NLP since it has been deemed by court ruling to be a general field of study that cannot be trademarked. For this reason, there exist many different versions and interpretations of NLP on the market, most notably the distinction between "New Code" and "Classic Code" developed by Grinder and others.
Like the term "life coach," the generic term "NLP practitioner" is unrestricted and can be used by anyone, which makes it difficult as a consumer to know what level of training and proficiency has been attained by someone who maintains this title. Course length between NLP training vendors can vary anywhere from 7 to 14 to 30 days, or even longer, and many practitioners will come away with different ideas about what is (and what is not) the best way to conceptualise, teach and apply NLP, with loyalties to different approaches.
In spite of this diversity (or perhaps because of it), NLP rapidly expanded beyond its therapeutic beginnings into the broader business and self-help markets. The rise of the human potential movement in the 1980s saw an influx of businesses and coaching establishments that emerged to promote NLP as an advanced mental technology used to improve sales, productivity, communication skills, relationships, and personal effectiveness. It remains popular today among many coaches, consultants, salespeople, psychotherapists and educators, although it has largely been dismissed for its lack of theoretical cohesion and absence of empirical support by the scientific community.
NLP was adopted and modified by several influential authors and speakers during the 1980s and 1990s, including Anthony Robbins (US Motivational Speaker) and Paul McKenna (UK hypnotist, TV host and self-improvement author), who are notable for helping to bring awareness of NLP to a broader public audience.
Overview
Broadly, NLP can be defined as a field of study that seeks to create and utilise "models of excellence" from studying people who excel in a particular way, especially with regard to psychological and interpersonal processes.
Stated another way, NLP is a systematic approach to:
(1) Creating models from analysing people who excel at a particular form of internal or external communication that leads to desirable outcomes

[NLP modelling]

and;
(2) Applying models, either on oneself or with others, to successfully reproduce the intended communication patterns and accompanying results

[NLP application].
Others may simply describe NLP as a diverse set of practical psychological tools for self-improvement and helping others.
At the most basic level, everything in NLP is related to the idea of modelling. People are encouraged to find an "exemplar" or "genius" — someone who demonstrates excellence in a particular skill — and, following this, attempt to "codify" their communication patterns into a model or set of instructions that can be used by others.
The type of technique(s) used by a practitioner will depend on the specific outcome being sought. Techniques are commonly used to get rid of bad memories, change bad habits, cure phobias, trigger positive feelings, improve emotional self-control, increase motivation and confidence, communicate, influence, and build rapport more effectively.
The list of NLP techniques can run into the hundreds. We have listed some of the most common ones below, although this should not be considered a definitive set.
Some Common Techniques
The Meta Model

The Milton Model

Pacing

Calibration

Mirroring & Matching

Anchoring

Reframing

Perceptual Positions

Sub-Modalities

The Swish Pattern
Descriptions of NLP theory and practices are usually underpinned by a series of basic beliefs or guiding principles (pre-suppositions).
Some Common Principles or "Pre-Suppositions"
The map is not the territory (our mental model of reality is not reality).

People work perfectly (if you go on doing what you're doing now you are very likely to go on getting the same results).

You cannot NOT communicate (you always communicate something even by being silent).

The meaning of your communication is the response you get (in spite of your intention).

Subjective experience has a structure that you can decode.

If one person can do something, anyone can learn (the process) to do it.

You have all the resources you need in your unconscious mind.

Behavioural flexibility: If what you are doing isn't working, do something else. Do anything else.

Present behaviour represents the very best choice available to a person.

Every behaviour has a positive intention.

Mind and body are one system; affect one and affect the other.

Genuine understanding only comes from experience -- so act!
Although NLP is often thought of as a diverse toolbox of techniques, the core practice of NLP is modelling; that is, the activity of building models by examining people who excel in a particular psychological or social process, then trying to recreate their results, which is seen as foundation and the life blood of the field.
Sources
Introducing NLP (2011), Joseph O'Connor and John Seymour

NLP Workbook (2012), Joseph O'Connor

NLP: The New Technology of Achievement (1996), Steve Andreas and Charles Faulkner

50 Self-Help Classics (2003), NLP: The New Technology of Achievement by Tom Butler-Bowdon

Frogs into Princes (1979), John Grinder and Richard Bandler

The Structure of Magic, Volume I (1975) John Grinder and Richard Bandler

The Structure of Magic, Volume II (1976) John Grinder and Richard Bandler

Turtles All the Way Down (1995), John Grinder, Judith DeLozier

Unlimited Power (1986), Anthony Robbins

Time Line Therapy and the Basis of Personality (1988), Tad James, Wyatt Woodsmall

A Brief History of NLP Timelines, Steve Andreas & Connirae Andreas, 1991

NLP Experts Speak Out, Psychology Today, Guy Winch, Ph.D, 2014

Neuro-linguistic programming – Wikipedia

Inspirative (Inspiritive.com.au)

NLP (Neuro-Linguistic Programming) – (Businessballs.com)

Honest Abe's NLP Answers, FAQs, Andy Bradbury, 2009
This article offers an expanded description of the summary listed in our post 40 Must-Know HR, OD, L&D Models & Concepts.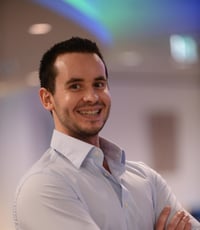 Client Services Manager, Writer & Researcher. Theo is one of the youngest professionals in the world to earn an accreditation in TTI Success Insight's suite of psychometric assessments. For more than a decade, he worked with hundreds of HR, L&D and OD professionals and consultants to improve engagement, performance and emotional intelligence of leaders and their teams. He authored the book "40 Must-Know Business Models for People Leaders."