The Single Best Predictor of Attrition
Most companies can't afford to lose talented and capable employees, but it does seem to be happening globally as employees seek more out of life in the wake of the health pandemic. What can business leaders do to predict attrition right now?
While attrition rates are not a new metric, they are certainly being looked at closely in Australia and New Zealand as the "Great Resignation" continues in the United States. Research from Revelio Labs revealed the top five predictors of attrition, as well as four actions that managers can take in the short term to reduce attrition.
What Role Does Compensation Play in Attrition
Dissatisfaction with wages has come up many times in relation to the Great Resignation. With inflation, it may continue to be a hot topic; however, research consistently shows that compensation is not in the top 10 factors impacting turnover. (It ranks 16th according to research by Personnel Psychology, 2018, which was noted by Revelio Lab in MIT Sloan.)
A great quote from Barry Schwartz, author of Why We Work and professor at the Haas School of Business at U.C. Berkeley, is "This notion that people work for pay, period, is false. But, perhaps more importantly, it could become true if you create workplaces that essentially deprive people of any other satisfaction that might come from work."
Top Five Predictors of Attrition
Toxic corporate culture
Job insecurity and reorganisation
High levels of innovation
Failure to recognise performance
Poor response to COVID-19
Number 3 might be a surprise where the others might resonate more. Afterall, it might not be surprising that there's high attrition in a toxic culture; however, it is surprising that employees are likely to exit innovative companies. In the research sample, "the more positively employees talked about innovation at their company, the more likely they were to quit. The attrition rates of the three most innovative Culture 500 companies — Nvidia, Tesla, and SpaceX — are three standard deviations higher than those in their respective industries."
The researchers from Revelio Labs not only looked at the top predictors of attrition, but they also gave a sense of their relative importance by benchmarking each element relative to the predictive power of compensation.
"A toxic corporate culture, for example, is 10.4 times more powerful than compensation in predicting a company's attrition rate compared with its industry."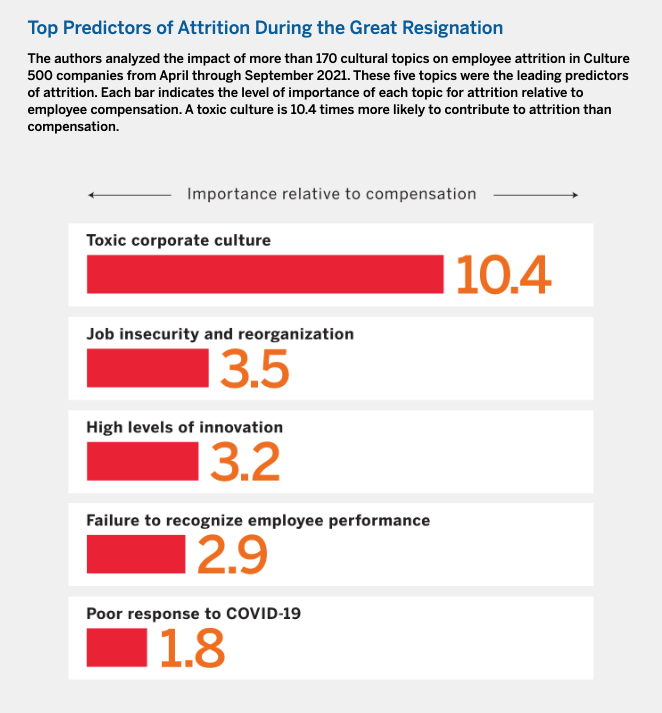 The notion of leaving a job is not necessarily related to the pandemic. A 2018 survey from Jobvite found that 30% of new employees quit their job within 90 days of being hired. One of the top reasons people left was a bad company culture.
Four Short-Term Actions for Retention
Lateral career opportunities
Remote work arrangements
Company-sponsored social events
Offering predictable schedules
Similar to the above graph, the researchers not only looked at short-term actions, but they also indicated how each action represents the topic's predictive power relative to compensation.
"Providing employees with lateral career opportunities, for example, is 2.5 times more powerful as a predictor of a company's relative retention rate compared with compensation."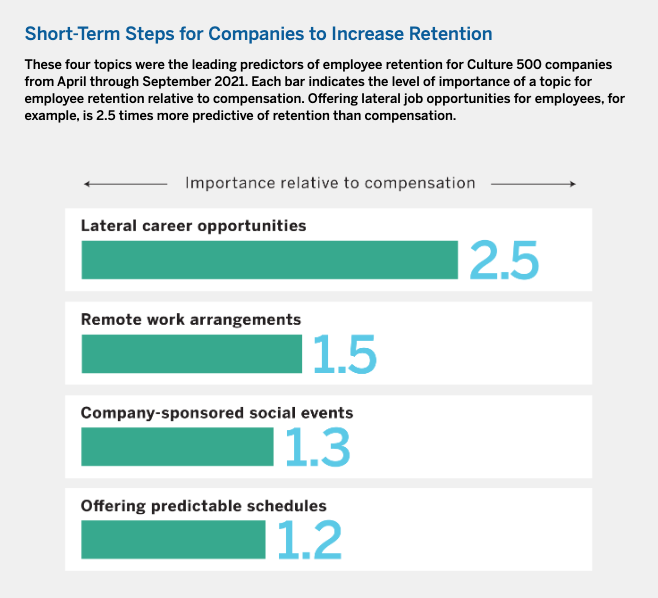 These short-term steps would likely align to some of your employee engagement strategies and/or goals to create team connection. To really address attrition, it's important to take a deeper look at culture, which is the long-term game.
The Long-Term Action for Retention: Assess and Address Culture
Research shows that corporate culture is more important than burnout or compensation in predicting which companies lost employees at a higher rate. Pinpointing the poor elements of culture can help leaders focus on addressing the issues that could otherwise lead employees to quit.
Reach out to our team today to discuss our Culture Suite. What we like about the Suite is that it's a group of diagnostic tools that essentially hold a mirror up to a business to generate an open and transparent conversation about where the business is and wants to be in terms of its culture and growth.
Three assessments make-up the Suite, and we would be happy to email you more information. Contact us on team@dtssydney.com for more information about the Culture Suite, and we can help you to boost retention.
References
Donald Sull, Charles Sull and Ben Zweig. Toxic Culture Is Driving the Great Resignation, MIT Sloan Management Review. January 11, 2022.
Brene Brown. How Toxic Work Cultures Are Driving the Great Resignation, Dare to Lead Podcast. March 7, 2022.
Evan Nesterak. Incorrect Ideas About 'Why We Work' Warp Our Organizations … And Our Views of Human Nature, Behavioral Scientist. April 5, 2022.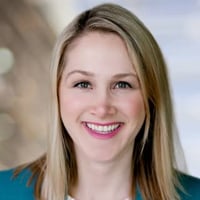 Head of Consulting Services, Australia & New Zealand. Temre has designed, planned and delivered business strategy and transformation programs that were driven by a range of factors, such as innovation, growth, compliance, regulations, restructures and economic downturns. As an Industrial-Organisational Psychologist, Temre has spent her career dedicated to organisational behaviour and the work environment. She is currently focused on the future of work and multiple areas of organisational development that support organisational growth and health.